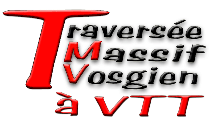 With more than 400 Km of mountain bike route crossing the Vosges, we invite you to discover a landscape which is quite different from others and particularly enjoyable.
You will find the gentle relief of medium height mountains along the whole range, with sloping trails and varied scenery.
You will also follow in the footsteps of history, meeting locals who are happy to tell you all about their region and its many facets.
We provide you with a guide-book containing a wide range of practical information so that you can set off alone into the mountains to explore, while respecting the fragility of its nature.
Finally, we remind you that mountain bikers must also respect other mountain visitors at all times
.